The BIMsider's favourite posts from the world of BIM –  for the week of Oct. 28th – Nov. 3rd, 2018.
I'm going to start this week's Roundup off with a post from the zhukoven blog about the new Enscape release 2.4
Enscape3D minor update 2.4 deserves a major title. Here is why.
2) An interesting post worth the read this week from Ceilidh on her blog The Midnight Lunch.
Mental health and the road to leadership
3) Some cool stuff going on at Proving Ground
AEC Tech 2018 – LunchBoxML Workshop Examples
4) In case you missed any of Dan's posts this week on his blog BIM Chapters here is his weekly recap.
BIM Chapters Update – Week of 28 October 2018
My favourite post was this one: BILT Europe 2018 Top Speakers and Recap on Simply Complex Podcast
5) Revit Tutorial time from The Revit Kid.
Revit Tutorial – Parking Striping That Follows Topography
6) Time for all the news from the world of BILT from the RTC News Blog.
BIM Show Live 2019: providing a stage for global BIM innovation
Introducing BILT Europe 2019 – Edinburgh, Scotland
Bonus – list of BILT 2019 Submission dates:
7) Ever wanted your handwriting to be a True Type font? Well, now it can be, learn more in this post from RobiNZ CAD Blog.
Microsoft Font Maker captures your hand writing as a PC font!
8) What no Dynamo yet, well let's fix that with this post from Just Shut Up and Do BIM.
All we ever wanted was everything…
9) How about a little Navisworks love from What Revit Wants.
Grouping Navisworks Clashes with iConstruct and Retain Existing Group
10) I will end this week's Roundup with a post from xkcd, that was shared by Michael from ArchSmarter in his weekly newsletter.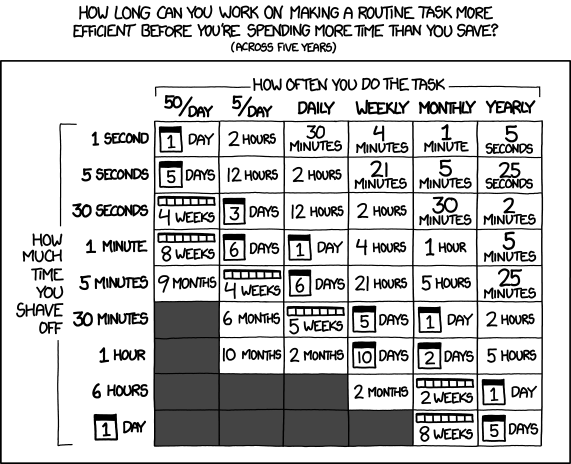 Until next week,
Twitter: @theBIMsider
Facebook: theBIMsider
LinkedIn: Carl Storms
Podcast: The Simply Complex Podcast
Podcast: BluePrints